I invite you to enter the portal…
to the "highest language of the mind", a place where you can find inspiration and discover the Truth behind Sacred Geometry, as is self-evident to You! This is a place where all viewpoints are considered and acknowledged, and also a space where you are encouraged to see symbols as a Universal language that words merely attempt to describe.
Did you realize that you give power and meaning to symbols with your beliefs?  We all attach meaning to Sacred Geometric forms. This site asks us to look deeply into meaning behind the form that is TRUE to anyone, anywhere.
My preferred phrase for Sacred Geometry is "the Architecture of the Cosmos".  Sacred Geometry describes the underlying patterns in everything in creation, from the largest galaxies to the smallest particles of DNA or energetic flow, and is found evident everywhere in nature.
Please enjoy your explorations on this journey…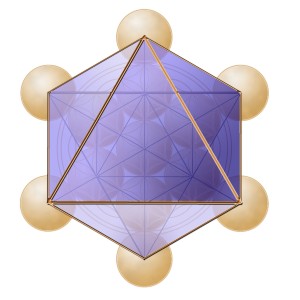 "Its amazing how all the dots start connecting themselves in your mind. This type of truth and knowledge speaks to me when I hear it or read it and it feels more like remembering something thats been locked away forever than learning something totally new, if that makes any sense. There is a deep peace that comes when you see why all of these things are happening and the overall divine comedy we are all playing our part in… Thank you so much for introducing me to this subject, it has already started to change my life, give me purpose, and is helping me to bring my light to others who are receptive to this knowledge. I've meditated in the past but nothing like how my meditations have been lately. I try to do my chakra mediations at least twice a day. It's all just amazing, to think I used to believe in coincidence haha."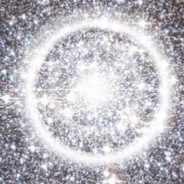 The Void and the Paradox of Beginnings Nothing. Vast Void of empty nothing… … nada, zilch, zip. Not even a thought to think it. Not even an awareness to see the Void. Infinite. The paradox is that infinite potentials exist in this no-thing of a Void, and it goes on forever!  The other paradox is that without time, there is also no "beginning".  To this knowing, the Seer exists, looking at the endless possibilities like gazing at a vast night sky of stars that have no space or relative distance as a metaphor.  The Seer,...
read more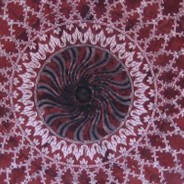 One is all inclusive.  Deriving from the universal perspective of self, One is knowing oneself.  To be in Oneness is the "hoop of life".  How can you be any other way?  There is only one way to describe "be" when you include all that is.  One is all that is.  It defines all that is not.  The circle determines what is included and what is not.  In all "Isness", what is outside of the circle is simply pure potentialities of what can be.  The philosophical paradox is infinite potentials exist while all or...
read more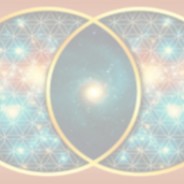 In the study of Sacred Geometry, there is a form that is said to give birth to all form. It is the shape of two coming together in perfect balance, with one "thread" connecting the heart of one to the other. It is also the symbol of Twin Flames of many traditions such as Pythagoreans and Sufis, the one that split into opposite polarities to take up two different bodies, but are always connected in the soul. It is at least a modern day symbol of the Beloved… our relationship to the Divine/Source Creator/God...
read more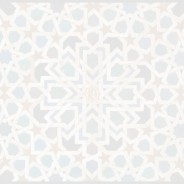 "Geometry is a major factor in the quantum realm, since it represents the natural form that vibration creates in a fluidlike medium. These naturally occurring aetheric vibrations will cause atoms that are released from a tiny nozzle to gather into perfectly geometric microclusters, which act as one large atom in their own right. These vibrations are also responsible for the formation of quasi-crystals, where a rapidly-cooled metallic alloy forms into a geometric structure that cannot be created by individual "particle" atoms, but only...
read more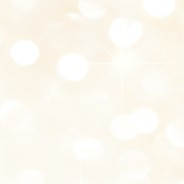 The Christmas holiday is filled with symbolism and profound metaphysical meaning.  When I was a child, my innocent mind knew there was something truly magical about it.  It wasn't till recently that I found renewed inspiration for Christmas through contemplating the geometry and numbers of the season. With the tree, the geometry in two dimensions is simply a triad in side view and a circle viewed from above and below.  The tree actually embodies the saying "as above, so below" through the triad, thanks to Quantum Physics....
read more
Sacred Geometry is frozen music. Currently, nothing demonstrates this better than the science of Cymatics.
read more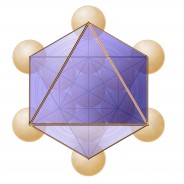 There are only five. There can be no more in three-dimensional reality that fit the parameters of all equality inside of the sphere. They become the very basic patterns of all form. When you begin grouping them together, or slicing off their corners, new, more complex forms emerge. The platonic solids are the 3D Mother/Father principle of all form, and the sphere is the womb that contains them all. First let me introduce you to them. They are: Tetrahedron, Hexahedron (a.k.a the Cube), Octahedron, Dodecahedron and Icosahedron. The Five...
read more