"I highly recommend attending Sacred Geometry classes with Lisa [Elizabeth]. They are a mind-bending delight! feel my brain changing with each new construction. It seems the shapes and the processes of drawing them truly speak to my soul and maybe even my DNA! One of my favorite thing is drawing a crop circle." ~Joy Smith, Yelm, WA
"My friend, Elizabeth Diane offers rich and enlivening workshops. She has helped me take my art to the next level! I highly recommend her teaching because she has really embodied Sacred Geometry."
~Robin Landsong, author, speaker, artist, singing medicine carrier, cranial sacral therapist
Quantum Conversations
August 25, 2022
I have been invited to an interview by Lauren Galey at Acoustic Health, a globally-broadcast online show:  Quantum Conversations – a High Vibrational Talk Show dedicated to Expanding Consciousness, Opening Hearts  & Raising the Vibration of the Planet. I will be sharing with her audience about how sacred geometry is a way to reclaim our power as creators, find our own Truth, and how to deepen understanding of sacred geometry to benefit anyone's expressions in the world. No matter what your gifts, vocation, interest and work, there are many ways these patterns of creation help us transform and inhabit the world in harmony.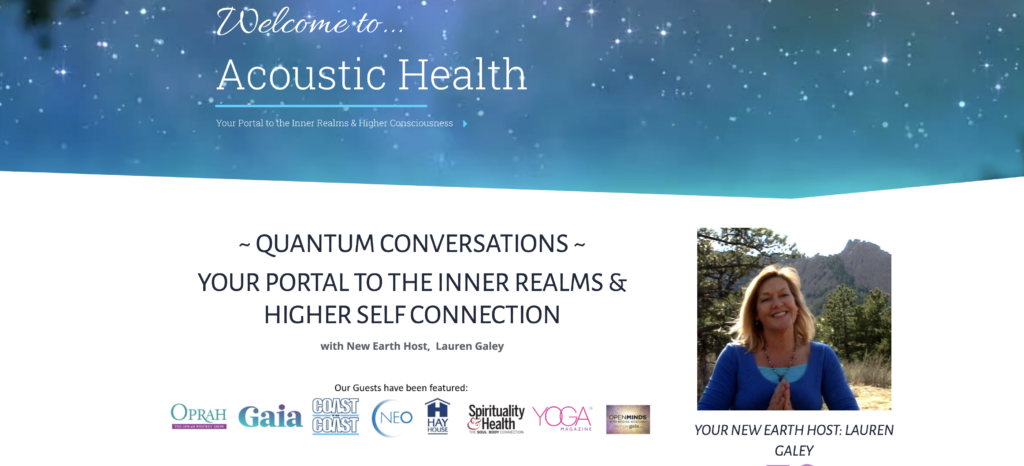 Elizabeth Diane is offering inspiring ways for you to incorporate Sacred Geometry (patterns of nature and the cosmos) into your unique creative expressions through experiential sacred geometry workshops events and classes that includes drawing with compass and straight-edge, creative art, heart-centered meditation and yantra practice, with some short presentations.
What does music look like? What is the shape of blissful harmonies? Why do some sites and temples feel so sacred? Where is the doorway to multi-dimensional realms? How was the universe created, anyway? And what does this have to do with relationships or "unity consciousness"?  Come discover for yourself!
Practicing Sacred Geometry is an experiential learning process that opens gateways for soul memory, enhances the mind's capacity to image hyper-dimensionally and reveals our relationships to each other and our connection to Divine Source. Sacred patterns can be used for healing and balancing energies. All geometry is "spatial proportion" representing frequency and music! It is a universal, inter-dimensional language and the highest language of the mind.
Future classes, workshops and retreats are being planned in Mt Shasta, CA.